Gilles Robichaud...SIMPLICITY OF LIVING
Posted on Tuesday, August 28, 2018
This Legend article features a 21-year veteran professional truck driver, along with his business partner and full-time traveling companion; his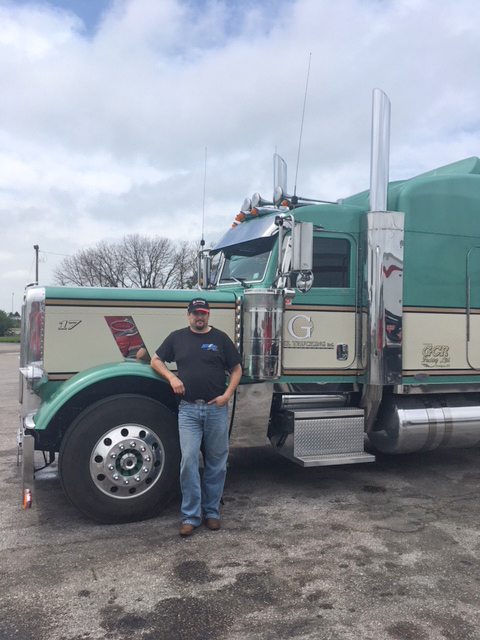 wife. Their life philosophy derived from an 80's song, Simple Way of Life. These few words reflect their work ethic, as well as, their lifestyle on the road. Easy-going, uncomplicated, transparent and humble. Integral elements supporting a strong foundation of two entrepreneurs solemnly focused on building a business with integrity.

Ordinary is the new normal, given today's society everything is painted so elaborate. This couple prefers a more realistic incomplex approach; to remain truthful and straight forward, as their successful career is validated through continued achievements. The realization is that with hard work, reward is soon to follow. This Legend driver's ambition and perseverance speaks to the quality of driver he represents. We as a trucking publication pride ourselves in highlighting truck drivers of such caliber. These Legend articles serve as a dedication to the men and women who choose to share their life stories with our reading audience, in hopes to encourage others.

Gilles and Chantal Robichaud of Cocagne, New Brunswick discuss their personal journey over the years and also some wisdom they've picked up along the way, working within the trucking industry as business owners, while balancing a healthy marriage in a profession consistent in reform and fluctuation. Stating, in the very beginning they could see the value in the course, both being highly proactive individuals, the belief in their capabilities and genuine love for what they do for a living, Gilles and Chantal were willing to invest the extra hours and effort to ensure success.

Known to many as, Gil, he recounts his earlier days when the idea of owning a big rig seemed like a dream too far out of reach, and how pushing himself to not give up led to discovering his own untapped potential. Chantal is not a typical passenger sitting idle merely for the window view. She chooses to be active and hands-on. Though no desire to drive a semi, that doesn't hold her back from getting involved. Pulling flatbed, when loading or unloading Chantal joins Gilles with her work boots and hard hat ready to take action. With Gilles's self-starter mentality and Chantal's industrious stance, this duo is extremely locked-in on the bigger picture, which makes working together easier and more enjoyable. Any challenges that arise, they recognize as correction tools for improvement. Enabling the ability to identify what is important, their business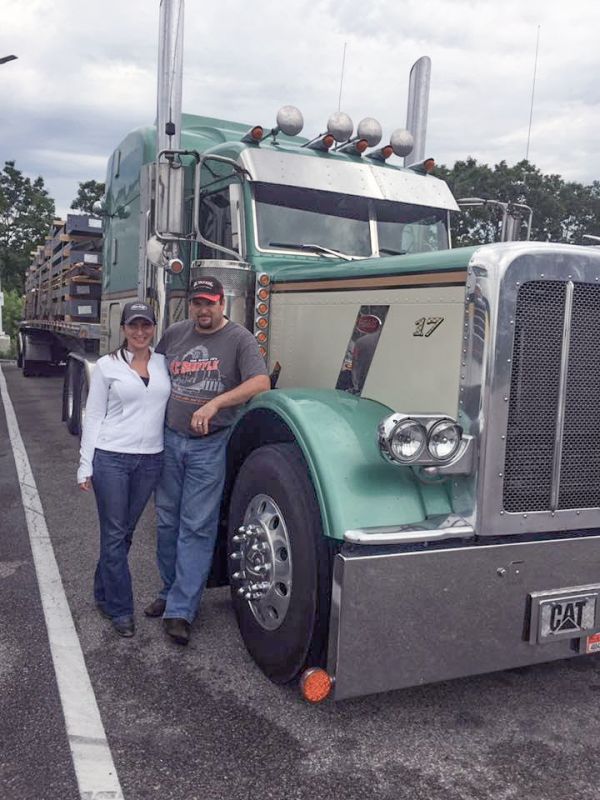 flourishes, as does their relationship.

Pushing the 3-million-mile mark, Gilles states his only regret is not making the bold move to become an independent contractor sooner. Having invested nine years as a company driver, before the transition to owner operator, it was Gilles's extensive mechanical IQ that originally seized his big break into the trucking scene. Starting in the work force straight out of high school, Gilles moved out West to British Columbia and found work as a welder. He later landed a laborer position at a local machine shop. In addition to his duties, he managed the loading and unloading area where he spent a good bit of time speaking with the drivers of the trucks who were making the deliveries. Which then, prompted Gilles to obtain his CDL with a promise to himself that one day he would find a way to drive an 18-wheeler. Until then, he secured a means of income as a mechanic while also working extra jobs in construction and driving gravel trucks.

In the Fall of 1997, Gilles relocated to Grand Prairie, Alberta and found work for a small carrier in the oil field as their trailer mechanic. Responsible for servicing the trucks in preparation for the upcoming season, Gilles was familiar with every truck and tractor on the lot and also knew a driver filled each one. Come November, his window of opportunity had arrived.

Born in Memramcook, New Brunswick, Gilles and his older brother fell in line with their father, as they shared an interest in older cars. They attended car shows together when Gilles was as young as six. His natural curiosity gravitated more towards anything industrial, such as trucks. Over the summers he found work on local farms, operating the necessary equipment, slowly gaining experience driving various pieces of machinery.

His friend's father owned a car garage, specializing on imports. There, Gilles was introduced to the vast world of mechanics. From age 13 to 16, he watched and learned, as they rebuilt race car engines. Gilles initially started with cleaning parts, installs, typical maintenance work. Over the years, as an apprentice his technical skills far exceeded his age. Though understanding engineering and mechanics came naturally, his interests always steered him toward large trucks. His only catch being, he didn't know anyone in the business. Without a single connection within the trucking industry, Gilles continued to master his craft as a mechanic and wait until the time was right to make his move.

Finally! It was a 1987 Kenworth winch truck. His company was down a driver and needed a load to go up to high level Alberta. It was minus 38 degrees Celsius in the middle of November. Without even looking at the truck first, Gilles jumped at the chance to drive. He continues,

"So, this is my first trip out, my first real job driving a truck. Hired on as their trailer mechanic, I couldn't have been more thrilled that I was even offered the run.

Half an hour out and the truck breaks down. It was nothing major, just an air line …a simple fix. I get back on the road and three hours in, I breakdown the second time. This time it's 10 o'clock at night and I'm out in the bush stranded.

A six-hour trip had turned into eight! But I wouldn't have changed that experience for anything. As I had to figure out a way to fix the problem, I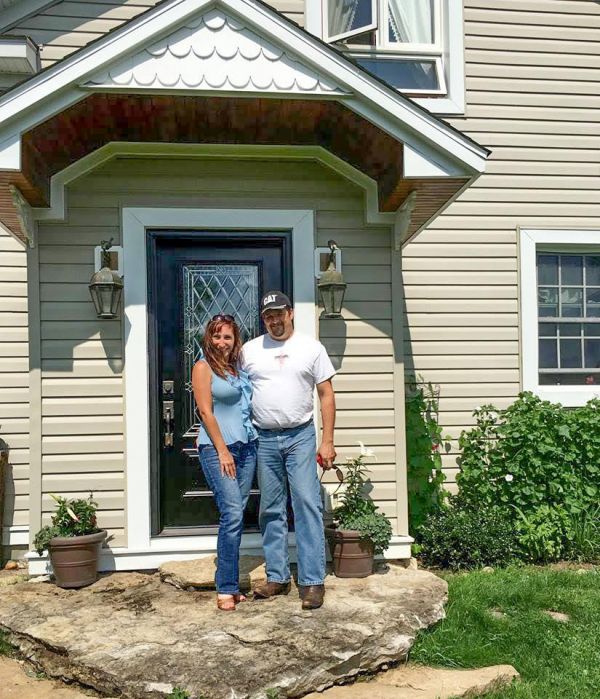 remembered advice from my uncle and I just pieced it all together with the knowledge that I had gained from being under trucks for so long."

At that pivotal moment in Gilles's career, every bit of his performance skills as a mechanic were put to the test. Some may not have handled the pressure with such ease as Gilles did that night, but with his background, there's no situation when it comes to the mechanical details of a truck that he couldn't manage, maneuver or manipulate to work in his favor. When Gilles returned safely, he was offered the truck with a fulltime driving position and granted one week to accommodate any improvements to his request at his own hands.

Shortly after, he was presented with a business proposition; partnership with the new owner, placing Gilles over the maintenance division of the company. However, the offer came at a bad time. Gilles was eager to venture out in his new role as a truck driver, not plant roots quite yet. Looking back on this day, Gilles states that his one piece of advice that he offers other drivers is to go after your dream, even if you don't know how you'll achieve it. It may be a rough road, stand your ground and ultimately, all of it will help shape who you become in the long run.

April 1998, Gilles moved back home to New Brunswick and came across a trucking outfit seeking drivers to run long-haul. Gilles applied for the job and has been running over the road ever since. He says, "It was all different territory for me. For one, I was traveling on the highway. And second, I was driving into the states. The country lands and scenic routes were beautiful in America." Gilles continued to gain experience pulling flatbed and lowboy, focused on the technique and finesse involved with straps, chains and tarps. Adding, "I had a trainer in the beginning that is now a good friend of mine…. I had never dealt with straps, it was a lot to learn. Especially when you think of all the risks associated when a load is not properly secured. He taught me how to tarp and was a great teacher, he definitely played a big part at the start of my trucking career." Gilles went on to pull dump trailers, dry van and refrigerated freight.

In January 2003, through a chance encounter during a fun night out on the town with some friends, Gilles meets Chantal. As you've read by now, Gilles's personality is business-oriented, headstrong with a streak of shyness. Chantal's energetic and cheerful charm is refreshing and just the right amount of temperament to pair equally with her spouse. The couple wed in the Spring of 2007 while vacationing with Gilles's parents in the Dominican Republic.

Prior to joining her husband on the road, Chantal was a translation project manager for a firm working in alliance between clients and company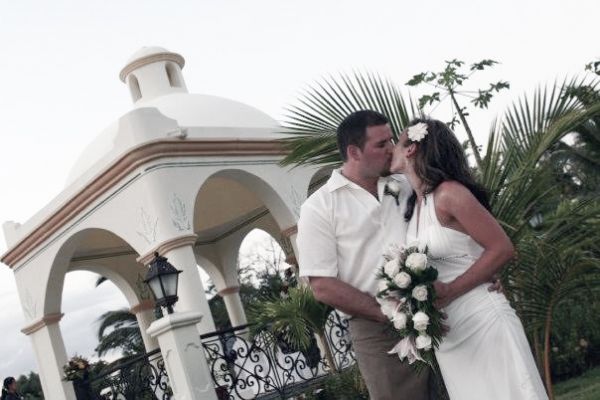 management. Her professional communication skills have crossed over as she accepts the title as Gilles's business partner. "Our partnership works because we understand each other and communicate well. We feed on each other's ideas, opinions and thoughts. And we balance each other out. At the same time, we know each other's limits and respect them. Communication is key in our line of work. I prepare the paperwork, I'm the navigator, I keep an eye on the Elogs -anything he needs, I'm there! I know that this is our business and we're in this together," Chantal says with an exclamation of joy in her voice.

She describes Gilles as a kind-hearted individual who is completely dedicated to his work. Stating, "He is so good at what he does because he's so particular with his equipment and takes pride in his work. Everything has to be done to the best of his ability, no exceptions." The daughter of a truck driver, Gilles met his match with Chantal. As young as 12, she has traveled in the truck with her father throughout Newfoundland and Quebec.

"I've always had a respect for truck drivers. They're a special breed! I truly believe some people are made for it, it's in their blood. Even as a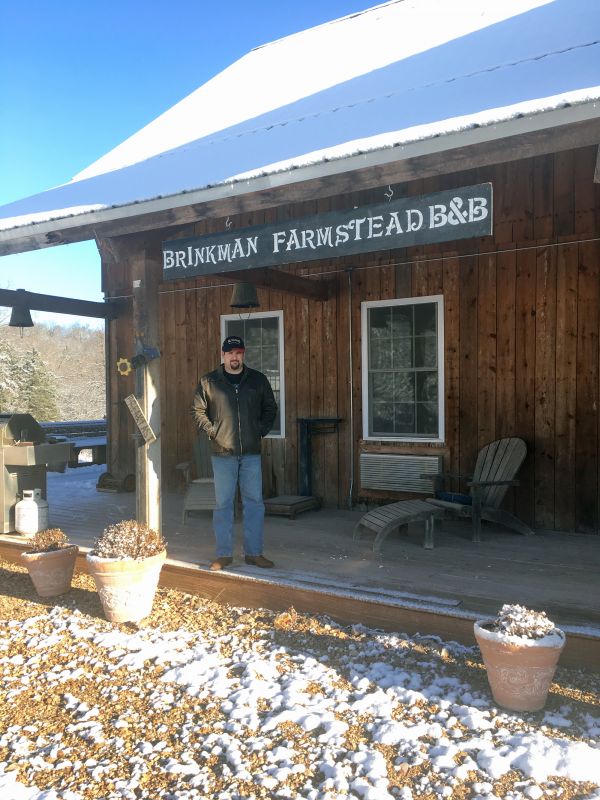 young girl, I have loved the adventures of the road. You see so much, and we've met some pretty amazing people from all over. But most importantly, for me, spending time with my husband is a privilege. This lifestyle isn't for everyone, but it's all we need."

Of Gilles's most memorable moments to-date, he claims earning his CDL, becoming an owner operator, and meeting his mentor are at the top of his order. Well-known in the trucking community and admired by many, seasoned truck driver, Ron Kelly is the one individual Gilles credits for the seismic shift in his trucking career. Gilles says, "I still remember the day Ron told me that I would do well in my own truck. My entire career up until that day, I had just been finding my own way with no real guidance other than my instincts. At the time, I was running hard for a broker that had me pulling for the same trucking company where Ron's fleet of trucks were leased on. I didn't know Ron personally yet, but I knew of him. He was well-respected, so when he put that bug in my ear, everything just sparked from there. Ron was brought up in the business, I felt like I had been waiting for that kind of influence in trucking my whole life. And he is everything you'd want in a mentor! Ron is down to Earth, humble, a hard worker and extremely successful. He has been a great inspiration to me and I don't know where I would be right now in this business if it weren't for his leadership. I'm grateful. Chantal and I started talking it over and with Ron's continued encouragement, we went for it."

The first truck Gilles and Chantal purchased was a 2003 Peterbilt with plans to grow a small fleet. They put a driver in their second truck. Operating with two trucks and two trailers for two years really helped the Robichaud's put their business goals into perspective. Desiring more time to focus on the job and their relationship, they agreed to settle with one truck and less hassle, opening more free-time for leisure. Three years ago, Chantal decided to join Gilles fulltime as they travel 10 months out of the year. Currently hauling general freight over the road in a 2008 389 Peterbilt, this green and beige beauty operates as their working-show truck, with its share of accolades to boot. When their work schedule permits, they compete in truck shows across the country; having received several awards, such as: Best Tractor, Best Truck and Trailer and Best Interior. They also enjoy visiting bed and breakfast establishments located in different states throughout the western region, preferably places that accommodate truck parking and offer a country setting.

Chantal's uncle, Lee Marlow is the accredited songwriter for the ballad titled, Simple Way of Life, based on his parents' way of living. Chantal and Gilles also embrace the lyrics as exhibited through design on the back of their bunk. They live together, work together, travel together and have created a life on the road that, like the song, best represents them. Simple, yet full. We could all benefit from a note or two from this couple.