ANSWERING THE CALL - David Coleman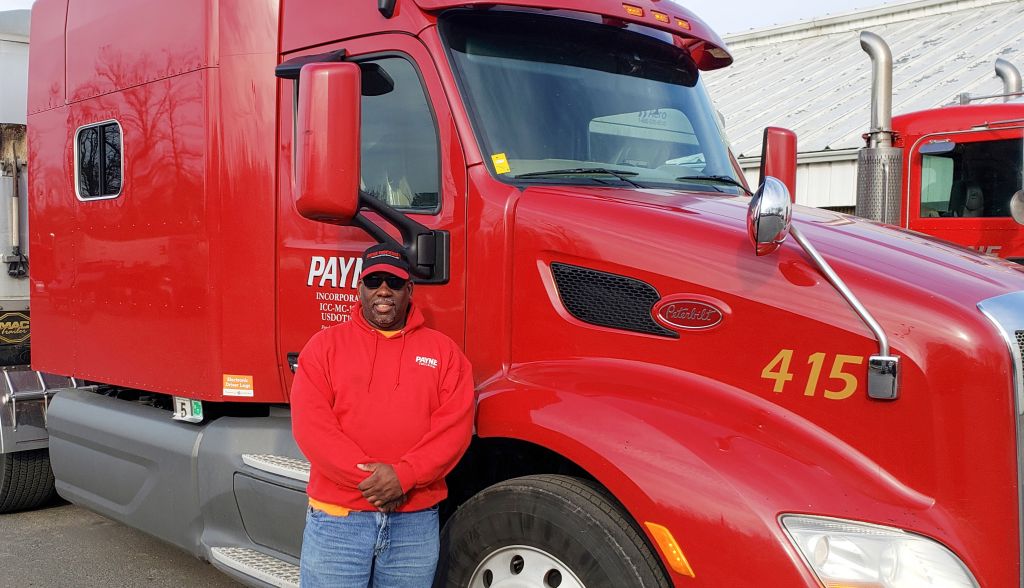 ANSWERING THE CALL
Legend Nominee: David Coleman
This Legend driver is a Virginia native; born, raised and still resides in the long-established town of Tappahannock. He was nominated by his current trucking company in recognition of his professionalism, dedication, and superior service. When phone calls are made in appreciation of one's kindness, people take notice. Although, demonstrating common manners should be considered the norm, the individuals who extend courtesy and goodwill without an audience exude the true meaning of humanity.
David Coleman shares with us his life story of humble beginnings, how he discovered his calling as a deacon, and what inspires him as a husband and father. He also offers advice for drivers, speaking from his own experience on the road.
As a kid, David spent his summers delivering newspapers by bicycle throughout the neighborhoods of Richmond – where his grandmother lived. His childhood was divided between the metropolitan area and the suburbs of his hometown. The baby of 4 children, his father worked as an employee for the city while his mother held a full-time position at a local automotive manufacturer.
David began his driving career operating dump trucks and cement trucks for a gas company based out of Fairfax, Virginia. Each work day commute was 3 hours in one direction. Over time, proving himself invaluable by quickly improving his skillset and developing proficiently, David took on more responsibilities landing him on the team responsible for running gas lines throughout DC and northern Virginia. He ventured into heavy haul, gaining experience pulling tag-along trailers transporting equipment for the same outfit.
Five years later, David secured a driving position at a trash hauling company running regional work out of Washington D.C. and Baltimore,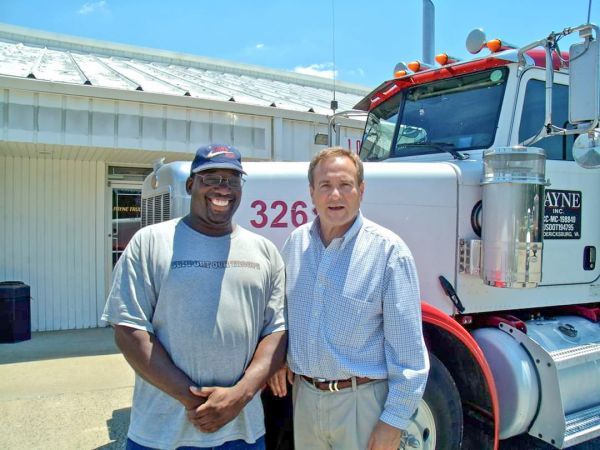 back into Virginia, returning home every night. With another five years under his belt, he went to work for an owner operator hauling lumber cross-country. In 2004, a driver and close friend led him to Payne Trucking, headquartered in Fredericksburg, Virginia; a family-owned and operated bulk carrier with over 45 years' experience in the dump trailer hauling business, their services extend nationwide, plus Canada. David states,
"Everyone at Payne Trucking is just like family to me! They treat you great, the pay is good, they respect your home-time and always see to it that you have the best equipment. I am currently on my third brand new truck. They also offer programs for drivers who want to better their careers in every lane. If you want to become an owner operator and purchase your own truck, they can make it happen. Whatever limits you set for yourself, the people here want to help you achieve it. They have local, regional, and over-the-road work; the flexibility accommodates the driver's lifestyle, whether you want to stay home or explore the country, it's all available here at Payne Trucking. They give so many opportunities for drivers to succeed, that is why I have stayed for so long – they care about their drivers."
Since joining the reign of company drivers at Payne Trucking, David has been honored with a number of achievements acknowledging his great efforts and commitment as one of their top elite professionals. He received the Virginia Truck Driver of the Year Award in 2013; throughout his 16-year career with the company, Payne Trucking has also named David, OTR Driver of the Year twice in 2017 and again in 2019. With a total of 27 years of experience in the business, he has accumulated well-over 2.5 lifetime miles.
A long-time member of St. John Baptist Church since the age of 8, David now serves as a deacon in his hometown. He attends with his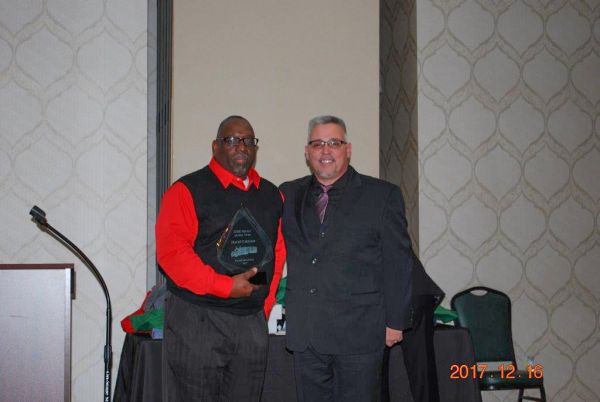 wife, Christine - the couple have been together 34 years and have 5 children, 10 grandchildren. Christine describes her husband as a loyal husband, hardworking provider, and extremely caring father.
With David's upbringing and the circumstances that he grew up in as a young boy, seeing the struggles his family went through, and breaking those cycles to live a better life for his loved ones created the silver lining that keeps him focused as the strong leader he is today. Christine says,
"Together, we wanted to raise our children better than what we had; in an environment where they could prosper and not endure what David's eyes have witnessed. He makes sure God is first and foremost, his faith guides him and I'm very proud of who he represents in our church family, our community, and in his line of work. We have been through a lot over the years, but with his determination and work ethic he continues to succeed in anything he puts his mind to… while still making time to take care of everyone else. David is a good person, all the way to his core. You won't meet a more caring man… and I thank God for him."
Currently in a red 2015 Peterbilt, David pulls a 38 ft dump trailer running from Boston to Florida, then out to Ohio, down to Alabama and back. Traveling long-haul proves to be a "sight-seeing adventure" as he enjoys taking in the scenic routes and mountains during the Fall. Understanding the risks as a professional driver, David credits Payne Trucking for their safety programs, stating that the company implements defensive training practices and proper procedures to ensure all drivers enforce safe driving skills during any on-the-road situation(s).
He advises drivers to remain calm under strenuous circumstances to prevent accidents. Adding, "Having patience and taking your time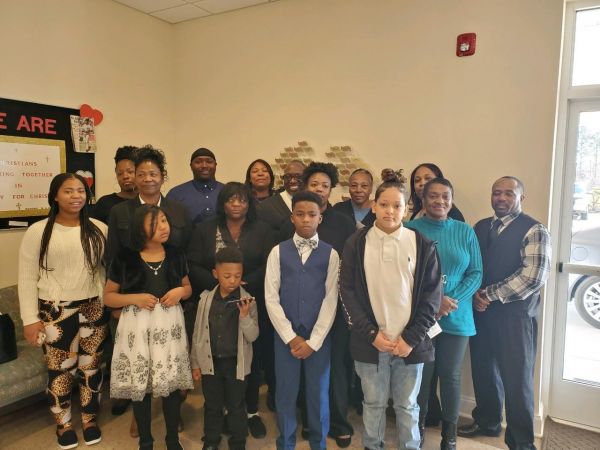 minimizes mistakes. You can't afford to make a mistake when operating an 18-wheeler. These things don't stop on a dime. When driving a truck, you have to be a professional at all times, or people can get seriously injured or worse." Having an accident-free career with zero violations is a feat in its own right, but for David his greatest accomplishment is watching his children grow up and raise families of their own.
Wanting to leave his loved ones a legacy to be proud of, David says his hope is that being a man of God and spreading kindness will continue to have a part in the hearts of his kids and their kids for decades to come. For unconditional love of a child brings forth unbinding generations of peace. As a deacon, he is able to share that grace into households much further than his own. Taking that same selfless cheer and applying it in his day to day work routine, engaging any whom will allow through expressing just the tiniest inkling of hospitality plant seeds of joy to spread into the world.
Simple advice he encourages others to follow, is to stay in touch with your loved ones. People remain busy juggling work, social events, children's schedules, and so forth. Time gets away – days turn into weeks, months become years – as we grow apart, distance conforms us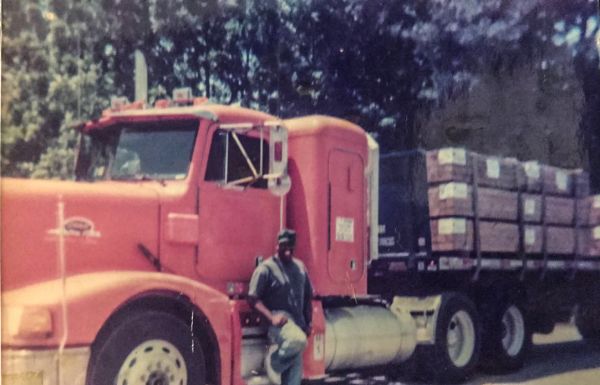 into strangers. David continues,
"We have to appreciate and look after our friends and family while we can. I've learned from experience that it's easy to let time slip by, but
to pick up the phone and check in on someone. If you don't see someone at church, call 'em up, see how they're doing and if they need anything. It's that easy! It's important to stay in touch, show them that you care, and that they matter. Nice, kind words go a long way. We lose people so quick; we need to learn to appreciate what we have and who we have while there is still time 
do so."
it only takes a few minutes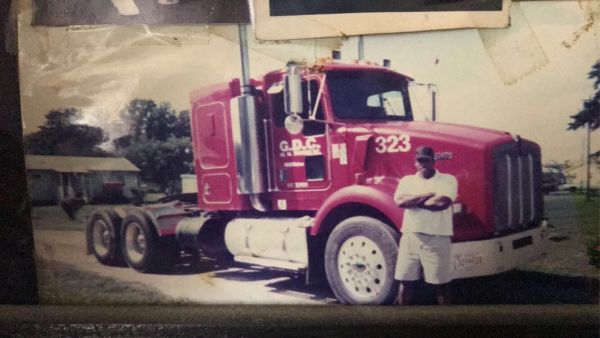 If describing his journey thus far could be summed up into one word, David chooses: blessed. Given the many situations he has observed on the road, wrecks to confrontations, driving over-the-road full-time exposes various elements, such as weather conditions and health issues. Factor in the general public, coupled with all the distractions, driving a big rig can often prove to be difficult – the most common risk, in the rise of social media: texting and driving. In many states it is illegal to use a hand-held mobile device for texting and driving, deemed a form of distracted driving, increasing the chances of an accident. David reverts back to his clean driving record, reciting his process of safe driving. Remaining aware of your surroundings at all times, staying attentive and calm at the wheel, and never get in a rush.
Looking back to the beginning of his career, the areas in which he can identify as his biggest challenge, in turn produced his largest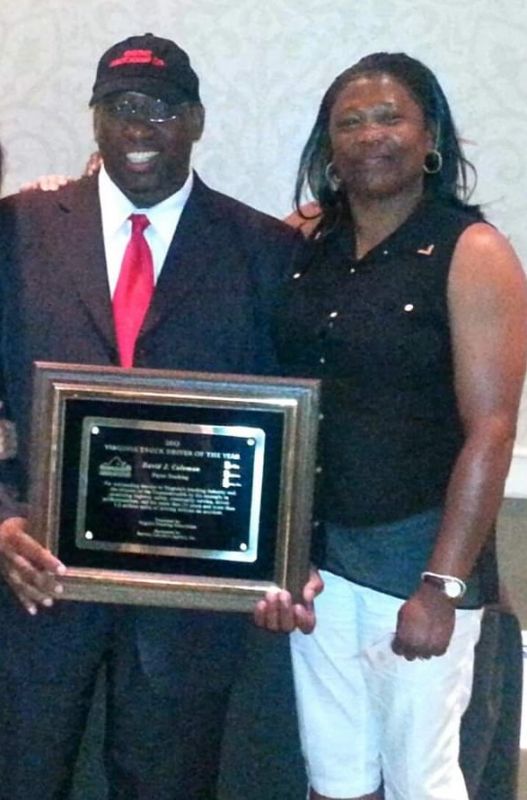 improvement: learning to practice listening more and better communication. Both qualities he states come with maturity and age, but still require a disciplined intention. However, he found becoming well-versed in the two fundamentals served beneficial to his homelife and profession. Providing great service as a driver and arriving on-time in a professional manner is all in a day's work for David, yet still he goes above and beyond to set the bar.
The admiration for David among his church family is equivalent to the recognition of worth he brings to Payne Trucking. By allowing us into his personal thoughts, his life history, and highlighting his career, David's legacy in our industry is sure to become more than these words written in print. He is the embodiment of today's truck driver… a spouse, sibling, family man, church member, a regular individual doing the best he can to provide a good life for the ones he loves.
When David is not away on the road, he and Christine enjoy peaceful date nights walking on the beach, taking in a nice meal at their favorite steakhouse, or simply traveling on a spontaneous road trip together with no specific place in mind. David explains that the importance of who a person surrounds themselves with and the environment in which they place themselves in will ultimately affect a person's mindset and lifestyle. His testimony can attest to the facts in which he speaks; in essence, being why David believes that a strong support system of positive, spiritual influencers can help keep a person on the right path.
Returning full circle to the young boy pedaling his bicycle, tossing newspapers from door to door – his desire to be proactive and earn a source of income at an early age developed into an ambition to attain a long-term goal. Achieving a successful career at Payne Trucking as a highly-respected driver and invaluable asset to the company means more to David than the notoriety. His decision to join Payne Trucking provided the platform he needed to create the life he envisioned for himself. With prayer, hard work, and humble beginnings, David continues to prove that driving a truck for a living isn't a job – but a calling.