RUN AS ONE - Scotty & Tara Carroll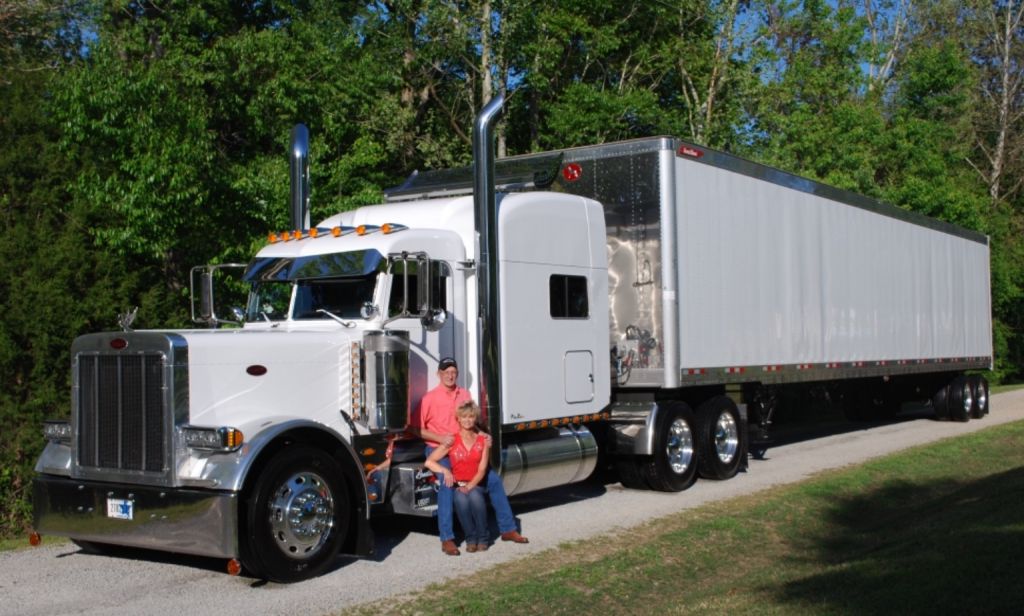 This power couple has over 45 years of professional driving experience combined, not including years prior to entering the workforce before obtaining a commercial license. One is a second-generation driver who still resides in his hometown of Hohenwald, TN. The other half of this Legend team is a fierce female from the city of Waco, Texas with no direct ties to the business. Apart from their contrast in backgrounds, they remain cut from the same cloth; like-minded seeking common goals.
    In addition to the millions of miles between the two drivers, we rewind to the earlier days before trucking became their way of life. We discuss each of their driving careers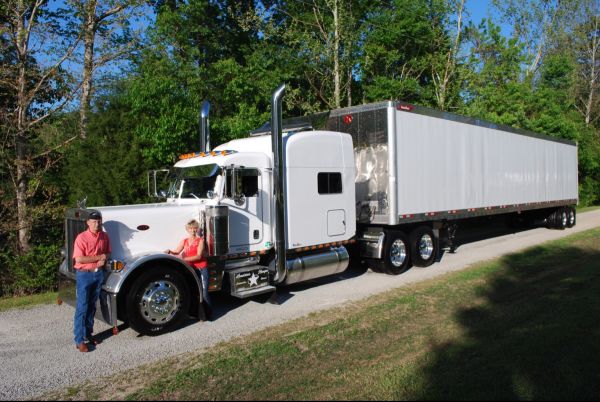 separately highlighting celebrated milestones and challenging learning curves. When their individual journeys collide, the testimony to follow enables the reading audience to gain knowledge of the industry through their experience and helpful advice as a husband and wife team. By sharing their story as one, allows their friends and family a deeper insight as to who has impacted their personal lives along the way, also providing a few extra details into how they have become the loving couple many adore today. Together they acknowledge the trucking community, their church family, and the large support system who have all played a crucial role as to the success they have attained as a team.
   
Earning a living driving a semi-truck is no easy feat. More often than not, a married couple pursuing the profession with the mindset of vacation and leisure are instead faced with an entirely different existence. The pros and cons of running as a team weighs solely on each driver involved; the aspect of quality time together and the freedom of the road might possibly appeal to any couple, however – many have stated the harsh reality of the trucking realm is that every day spent together is not always the view of sunshine and rainbows.
    The struggle to find the balance of teamwork as co-pilots in a business capacity that consists of the small-size space in a truck cab while maintaining a healthy marriage requires a great deal of effort on behalf of both drivers. Separating the two worlds of professional and personal can prove difficult. On the other hand, when the harmony of both drivers is fluid – a journey unlike any other experience awaits.
    Communication and a desire to improve as a business partner and spouse are the vital keys these two drivers embrace as their secrets to overcoming obstacles. Both offer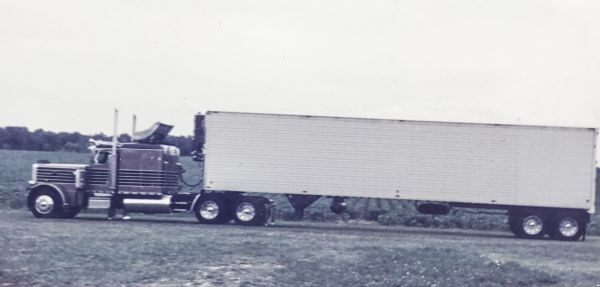 support through consistent encouragement and reassurance; words of praise goes a long way, though the potential rise of confidence improves when the promise of support in case of failure is present.
   Scotty Carroll grew up surrounded by semi-trucks since the day he was born. His parents, Samuel Lee and Peggy Carroll owned and operated SL Carroll Trucking out of Tennessee. In business over 50 years, Scotty received the type of first-hand experience many drivers would pay good money to get a piece of. From dump trucks to hauling drop deck trailers, then reefer and dry van – the extensive array of trucks at his exposure was the accurate environment in which to establish and prosper as the accomplished driver he has become. Meticulous with his equipment and knowledge of the business, Scotty's background attributes to the driver-partnership he shares with his wife, Tara. Closing in on 20 years of marriage, Scotty and Tara's work ethic and goal-oriented approach continue to administer as the foundation of their progress.
    …you know what they say about a good ole southern woman – she possesses the hospitality of Mother Teresa with a Marilyn smile; fearless as a lion. Tara embodies her country roots, steadily ready to roll her sleeves up and accept a challenge. Her upbringing also involved hardworking parents setting the example of how to earn a decent living coupled with strong family morals. Tara's mother excelled in the field of cosmetology, while her father was a full-time construction painter. At the age of 20, Tara began her truck driving career under the wind of a prominent cattle hauler.
    When Tara and Scotty teamed up in 1991 to run over-the-road pulling reefer, they shared an instant appreciation for the qualities each demonstrated to the lifestyle of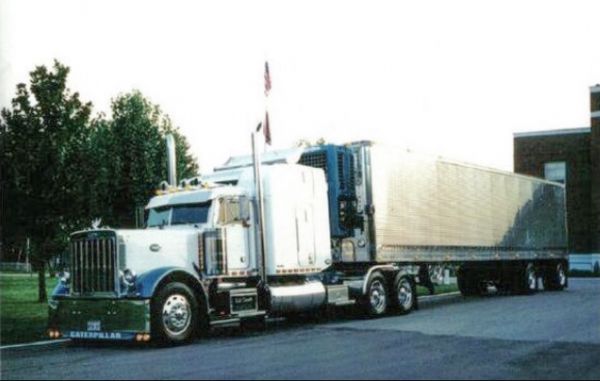 trucking. Tara's former experience of running team coordinated nicely with Scotty's insight of the business.
Scotty: "The first year we were together day and night with zero time apart, but it was so much fun! We get along so well that we never fought, we just enjoyed each other's company. The mutual respect we have for the other allows us the independence to make decisions without having to manage one another, which in turn provides us the freedom to simply enjoy the ride."
Tara: "I believe what a lot of spouses don't understand is that for truck drivers, they never get a day off. Even when they are home, they're thinking about the job or handling maintenance on the truck – just because the truck is parked doesn't automatically turn off everything tied into work. So, the driver is constantly working while the spouse gets to reap the benefits of their labor… that's not the way it needs to be…"
    Creating an environment of mutual respect fosters a relationship of understanding and transparency. They also agree that jumping into a truck with any second-party that was formally a solo driver initiates an adjustment period. Scotty states, "I had driven so many years alone that I had my own routine. When Tara joined me, we both had to get in the rhythm of respecting each other's space while also learning how to handle situations when another's opinion is included. It's important to remember that everything you do affects your team driver too. But if two drivers, especially a husband and wife team, can adapt, work cohesively and run as one… the sky is the limit."
    Scotty began tagging along with his father in the truck at an early age. His days earning time hugging the big wheel came at age 15; by 17 he was let loose and running solo. Once licensed, he delivered oversized loads out to California. In 1983, Scotty became an owner operator by 21 purchasing a truck from his father – a 1979 Conventional with a 15-speed transmission. The following year, he bought his first brand new truck – an '84 Peterbilt extended hood flattop sleeper, and leased on with SL Carroll Trucking, alternating between transporting dry van and refrigerated freight.
    Together, Tara and Scotty have 5 children: Scotty's 3 sons and Tara's 2 daughters, and 7 grand babies ranging from newborn to 9 years old. In 2002, Tara and Scotty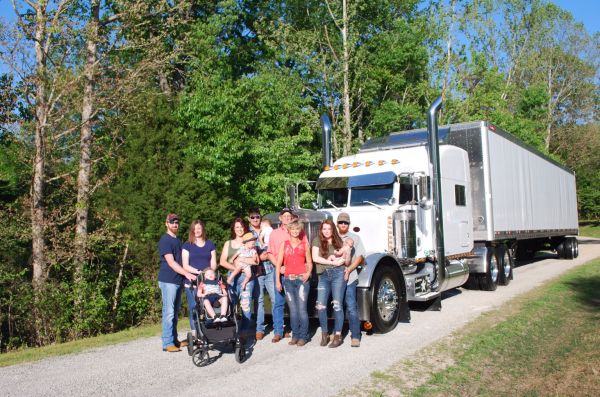 evaluated one another's priorities and made a few revisions for the betterment of their large family. Both wanting more quality time with their loved ones, they opted to put the trucking lifestyle on the back burner in exchange for nights and weekends at home.
    Scotty came off the road and assisted his father in running the family operation of 10 trucks. Tara enrolled into college pursuing classes in the medical field as a nurse. In February of 2005, Samuel died – with the loss of his father, the family made the tough decision to close the company doors. Scotty worked logging for a local gentleman for 5 years, as Tara moved forward with her career in nursing. Four years later, following the passing of Samuel, they buried Peggy too.
    In 2009, Scotty graduated from the Tennessee Law Enforcement Academy, securing a position with the Lewis County Sheriff's Office. Stating,
"It was a career change that I felt needed to be made for the new direction I wanted to take. Trucking has always been my livelihood… it has been good to me, but it was time to switch it up. I enjoy helping people so my time at the Sheriff Department was the right choice, I'm proud of the work I did there. It reminded me that not all people are bad, some are just people who have made a bad mistake. Life is about second chances and trying our best at getting it right."
    Scotty's dedication to connect with his community and serve the public stems from his natural instinct in wanting to help others. However, resembling the trucking profession – the sun doesn't shine every day on the clock. At the Sheriff Department, having to face the fatality rate (particularly deaths among the youth) weighed heavy on the heart strings. Adding, "It takes thick skin to do that kind of work. It's hard not to carry around those images in your head after leaving a scene… it would always hit me when I would get home to my own children – it was tough."
    Nothing could prepare Scotty for the most difficult call he'd receive on duty. It was in 2011. Tara and Scotty kissed, said the usual goodbyes, and went their separate ways.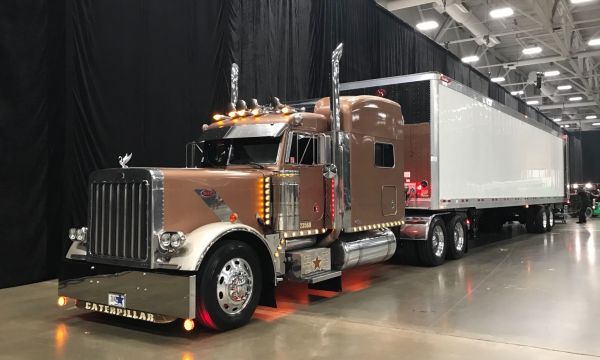 Tara headed to their son's baseball game in town; Scotty returned to work. Thirty minutes later, his phone rang – Tara was involved in a head on collision, hit by a drunk driver. Once Tara was cut out of her vehicle, she was airlifted to Vanderbilt University Medical Center in Nashville, TN where she remained for months, two of the four was spent in ICU.
    Tara's injuries consisted of a broken back, broken pelvis in 3 locations, broken femur, tibia, and fibula, with a severely impaired (left) arm – amputation was on the table. Luckily, the medical staff were able to save her arm. The following months were spent in and out of the hospital and nursing homes, including immense physical therapy, and 14 surgeries. Tara continues,
"I am thankful that I have my arm, although I'm still limited on how much strength and control I have, as to the amount of weight I can lift – nothing over 10 pounds. Both my ankles, femur, and on up have rods… but I'm a survivor. It was my faith in God and our family that helped pull me through. There were many days in the beginning that sent me reeling in disbelief that the wreck even happened, but it brought us all closer together!"
    Scotty explains how the tragic event that put everyone's lives on hold – since Tara represented the glue that held their family together – began a sequence of compassion among their hometown. When Tara was wheel chair bound, the Sheriff Department built a ramp at the Carroll residence; people brought food to alleviate the burden of cooking meals; friends sought out ways to be of assistance with the kids, allowing Scotty to focus on Tara's recovery. He says,
"We are surrounded by the best people! So many stepped up when we needed help. The outpouring of support was completely overwhelming. I will never forget that time… it was our darkest and most vulnerable, but also gave us hope through the power of kindness."
 
   The couple returned to the road in 2016 in a white 2005 Peterbilt 379  with their 2019 Great Dane trailer. Tara's routine to help her body acclimate to being in a truck full-time after sustaining prior injury, she explains that physical therapy and walking frequently are a must. Their 70 IN standup sleeper allows her to ride comfortably, while in the company of her 3-year old Yorkie, Trucker.
    Leased to Landstar, the duo runs two weeks out at a time pulling dry van. They both speak highly of their peers at Landstar, recommending solo and team drivers seeking a driver-friendly company to come onboard.
"Landstar is a great company with excellent benefits. The people here actually want to help you… they want you to succeed. Most importantly, you're not just a truck number. They treat you like family. Believe me I would know, being from a family-run business – treating drivers how you want to be treated makes a world of difference."
    Respect and professionalism was engrained at an early age from the late, Samuel Lee. Not just in the realm of trucking, but throughout life in general. Scotty and Tara hope to pass on the same values to their loved ones, as they share with their families the keys to achieving the many gifts of life: joy, faith, and success. Though, success is measured in the eye of the beholder. For the Carroll's, their success story hinges on a bit of kismet, an unbreakable bond, and lots of hard work. Scotty's message is about applying lessons learned, coupled with a strong belief in goodwill; as Tara expresses the importance of determination and grit.
"I want others to walk on the rocks I stubbled on. Remember, it's okay to lean on God. It has been my faith in Him that led us through the good and bad times. Everybody needs to have a little faith." - Scotty Carroll
"Never give up, even on your worst day… don't give in. Also, set your goals high and dream big – it gives you something to work for." - Tara Carroll