THE HIGH ROAD - Sue Short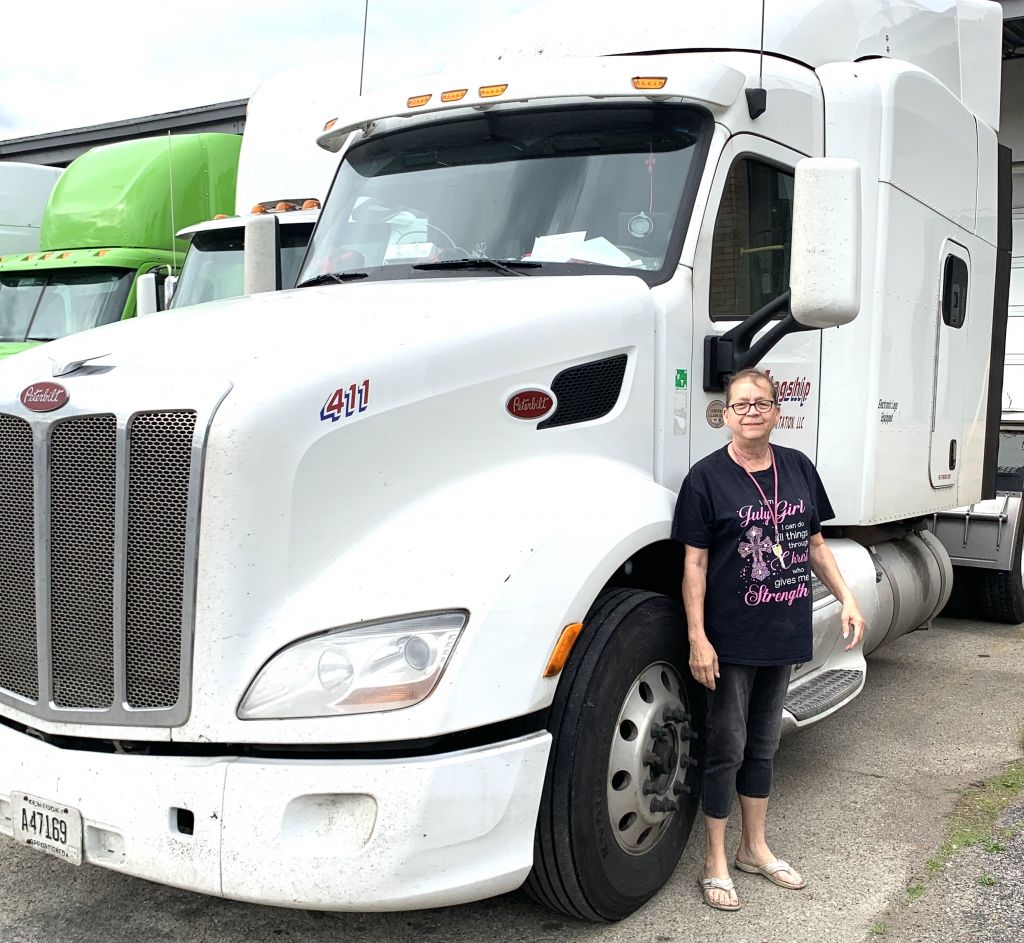 It was her dream job.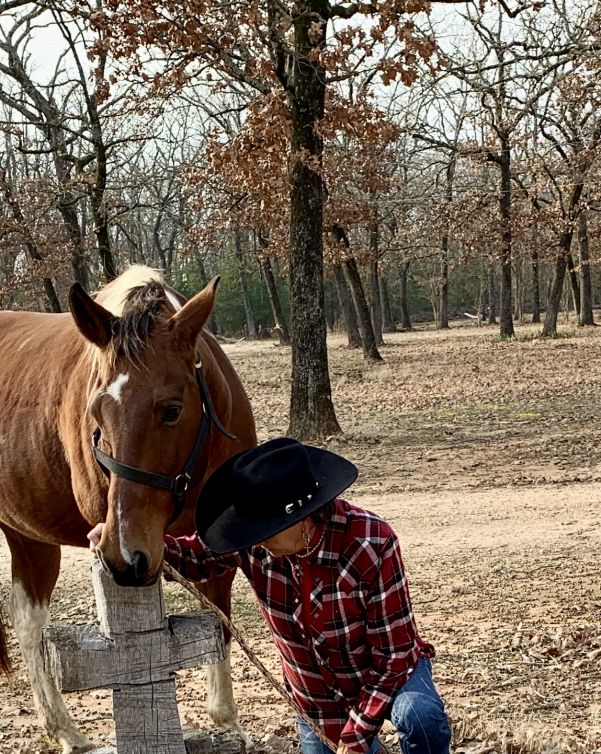 The type of work that surpasses career status and titles.
Where job satisfaction evolves into a combination of fulfilling life's purpose, while enjoying the process with little to no pressure related to the job itself.
Days were spent exploring our country near and far, motivated by an ambition much greater than she herself could fathom. All was right with the world, working independently as a woman in a male-dominated industry; this Legend driver was on the path she was destined to meet. Unbeknownst to her, hitting rock bottom was inevitable in order to reach the high road.
    Native Texan, Sue Mitchell-Short comes from a long line of family who have served in the military. The strict work ethic required of each service member continued as the standard principles in which to maintain a diligent, yet respectful upbringing of children during the 50's. Her mother, Juandell worked in finance while Sue's father, Horace, an Air Force veteran wore many hats including a full-time position at a local factory. Together, Juandell and Horace, along with their three kids (Sue, being the youngest of the bunch), all shared a love for horses. In 1965, the Mitchell family started the Frisco Riding Club – offering roping and horseback riding lessons, hay rides, and hosted events for all ages to enjoy.
    Sue began riding horses as young as 3, by 6 she entertained the crowds barrel racing. Her parents' desire to unite their community echoes within the essence of who she strives to be today – a better person with hopes of making a positive difference through volunteer work, networking, and ministry. Growing up with a father whose hands never sat idle, Sue spent her childhood just as active: mowing the lawn, stacking chopped wood, or picking peas. The mass of household responsibilities were divvied out, keeping everyone in the family engaged. Sue inherited her mother's patience and poise, though Juandell passed at the age of 57 leaving behind a legacy of kindness and goodwill.
    With parents as strong role models, Sue has grown to embody her innate ability to recognize a challenge and seize the opportunity to prove that anything is possible. Embracing her 61 years in age, throughout our interview Sue demonstrates professionalism – sharing extensive knowledge of the trucking industry, as well as her less-than-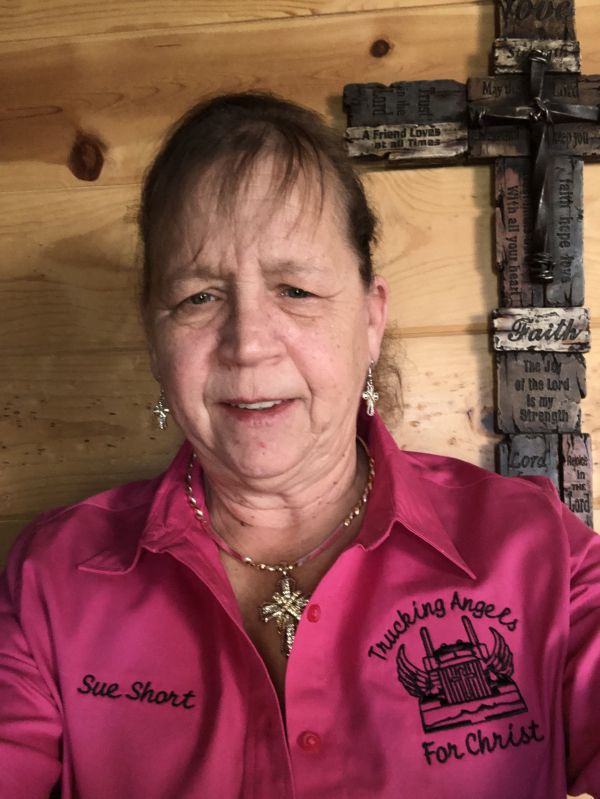 smooth journey to the present day. Her testimony speaks to the potential of self-determination and redemption serving as an inspiration with an emphasis on forgiveness, faith, and new beginnings. Sue's honesty is heartfelt, and a reminder that with each battle we overcome brings forth an immeasurable victory.
SILVERLINING
    Typically when the body is directed by the heart strings, the mind eventually surrenders, eager to follow happiness. Sue's initial attempt at chasing love in a relationship unveiled an alternate type of long-lasting interest – the discovery of her dream job – driving a semi-truck full-time cross-country. The year was 1999, ten years into her driving career when a night out went bad, sharply snagging her sail to a halt. The same passion she bestows with unconditional love, serves as her kryptonite. Summarizing her lesson learned, it only takes one DUI conviction to derail an entire life's work. Currently 12 years sober, Sue states that her CDL was immediately suspended with a probationary period of 24 months, describing that chapter of her life as life-changing, though necessary.
    Unable to return to her profession, a skillset she spent years training to perfect set her focus on a transformative course that altered her direction in life. Now, an active chaplain for several ministries, Sue is able to channel her compassion to those in need of encouragement. Relatable to many on account of her own personal struggles, her calling to be of service through prayer and fellowship stretches further than the message of safe driving. Sue's remorse for driving under the influence flooded her mind with scenarios of tragedy, if not for the sudden intervention. Holding herself accountable for her actions, she redirected that energy toward forging a new life of recovery and improvement.
    Along the way, Sue wanted to use her experience to possibly help prevent others from venturing down that same dark tunnel. Statistics reveal, driving impaired is one of the leading causes of death in our nation. Sue chooses to share her past as an advocate to end drunk driving.
    While seeking Godly council, she connected with another female driver, Mona Beedle through Truckers Prayer Line. With similar backgrounds in trucking the two formed a close friendship, sharing a passion for Scripture and belief in the power of prayer. Mona's vision for a support group specifically for women in the trucking industry inspired the ministry forum, Trucking Angels for Christ, Inc. established in 2017. Sue joined the team of chaplains emoting their mission statement: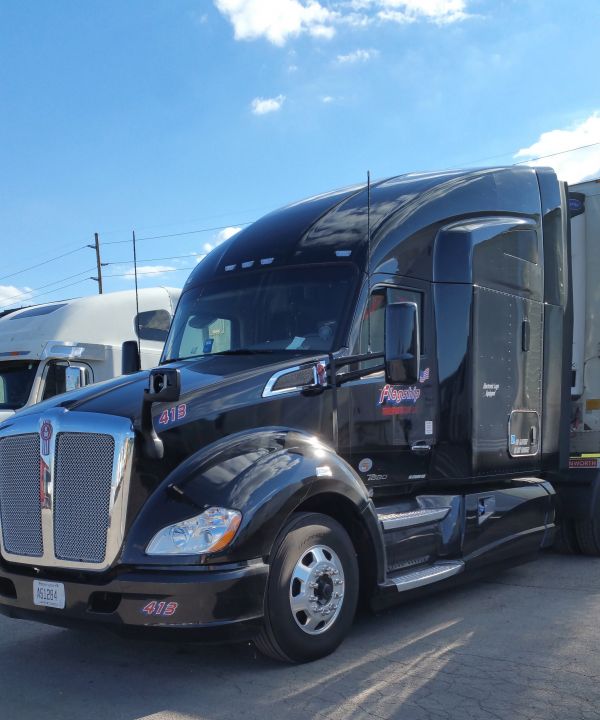 "Evangelize, equip, and encourage women to be all God has created them to be through the filling of God's word."
*Be sure to like their Facebook page to stay up to date on upcoming events: Trucking Angels For Christ, INC.
   The Truckers Prayer Line is a ministry among the Christian Truckers Network available to men and women who seek a deeper knowledge of the Bible, request prayer, or simply desire discussion addressing personal concerns. Callers can also listen and/or participate in bible study through the prayer line every Monday-Friday 10AM(Eastern Time). For more information on the ministries involved, visit the website at ChristianTruckersNetwork.org
Call or tune into their podcast today:
712-770-5505 ACCESS CODE: 401080#
  The impact of support received and given through ministry has instrumentally altered Sue's perspective. Ready and willing to dedicate her free time to spreading the Word of God, during trucking events she passes out bibles, cd's, and witnesses to people. When on the road, she runs long-haul in a 2015 Peterbilt pulling refrigerated freight as a company driver for Flagship Transportation & First Call Logistics, based out of Louisville, KY. Sue joined the fleet of transportation professionals with 33 years of driving experience and 3-million lifetime miles under her belt. Flagship Transportation encourages Sue's ministry work by taking part in sending bibles from their headquarters location down to her home state of Texas. Sue explains,
"I volunteer with my church when I can, and remain available to minister at any given time, but it's the behind the scenes work that I'm the proudest of. Getting God's word into the hands of people I may never meet is much bigger of a plan than I can imagine. Helping people in need of salvation and guidance, with the potential to change lives and save souls is humbling. Especially since I was once in that position – somewhat lost, not knowing what was missing from my life.
That is why it's so important to me to help spread the message that there is more to life… Understanding that we all have bad days or have disappointed others… you just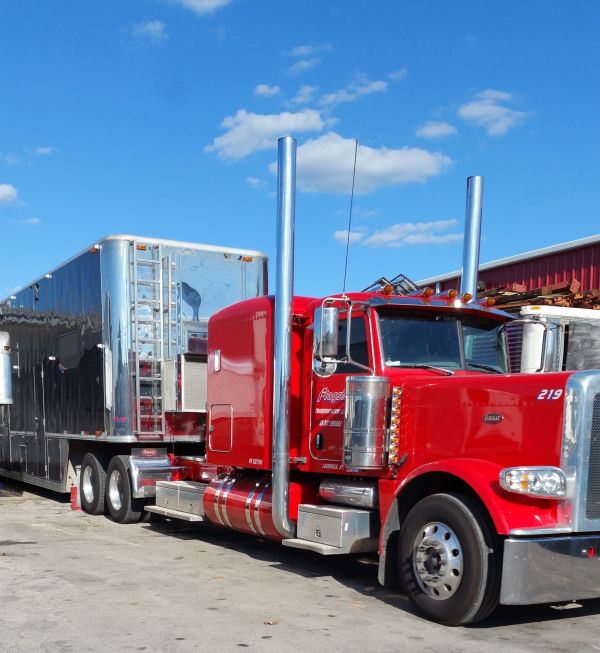 have to find the way back. Sometimes, you just have to pray… find that high road and follow it through. Everything always finds a way to work out when you have God in your corner. I know that to be true!"

GONE TRUCKIN'
    Sue's position as a cashier at a truck stop in the early 80's served as her introduction to the world of trucking. She switched to serving tables and was later promoted to restaurant supervisor. During that time, she describes the ambience of the diner as the best part of her job – the trucker-friendly atmosphere. Back during that era, truck drivers were as envied as their adventures of the road. Sue enjoyed listening to the many stories about their travels of faraway lands, having to rely on her own imagination as they painted places, she hoped to visit one day.
    The comraderie among truck drivers always put her at ease, she was comfortable talking shop as her outgoing personality played well to the environment. To this day, she never meets a stranger on the road. When the time came for her to leave the truck stop, she recalls telling drivers that she had befriended, "See y'all on the other side." Sue knew at that moment it was only a matter of time before she would drive a truck for a living and begin her own trucking adventure.
    Her first time out in a semi-truck was riding shotgun in a day cab with a 10-speed manual transmission, it was a 2-day trip out to California and back to Texas, hauling show cars. There was no passenger seat, only a wooden box which became her resting spot for the entire ride – with the exception of a few times she was allowed to swap seats and sit behind the wheel. Afterwards, she was hooked! Driving an 18-wheeler became her top priority – with it came the freedom to travel, knowing that her duty would also serve the country as a means of contributing to the public.
    In 1989, Sue graduated from truck driving school, ranked the second highest in her class of 100 students. Although prior to earning her CDL, she rode alongside an ex-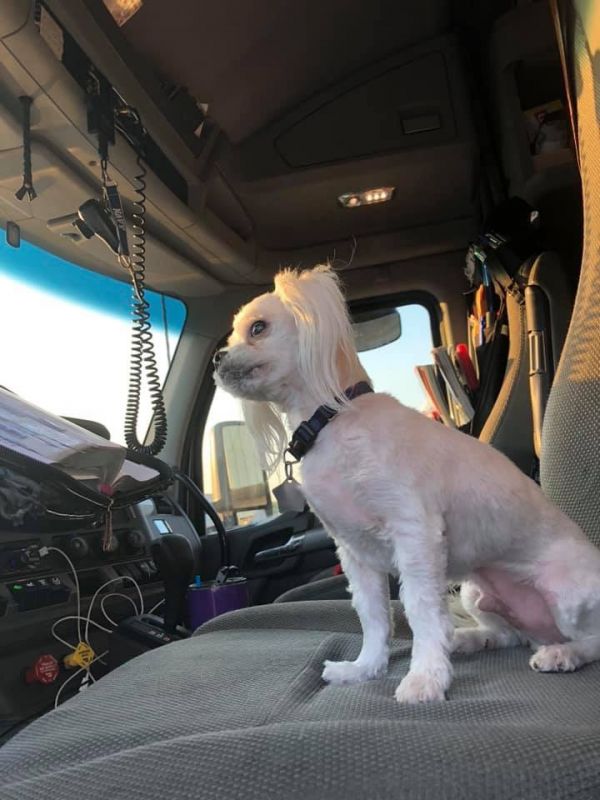 husband-turned-mentor for a year over-the-road. He taught her the ins and outs of the business, also the importance of proper maintenance. Much of her long-term training was taught on the road under her friend's supervision: how to shift and skip gears, pre-trip planning, and ways to safely maneuver in high volume traffic. By the time she enrolled in driving school, she was well-qualified and a few steps ahead of the game.
    Once licensed to operate a commercial vehicle, Sue secured a driving position hauling reefer running long-haul, fulfilling her dream of traveling the country. The following 
year she tied the knot with seasoned truck driver, Doug Hoffman; the duo hit the road running team for an owner operator pulling dry box. The trick to transitioning from running solo to team is finding the balance within the partnership. What works for one person may not be feasible for the other half. Luckily, for Sue and Doug communication worked in their favor and the two were able to enjoy many years on the road together before Doug's passing. Sue says,
"When running team, you really have to trust the other driver, otherwise sleep doesn't come with the territory. Some of our best memories throughout the 15 years of our marriage was when we were in the truck traveling. It was truly an adventure having him beside me to experience everything as a team."

    In 2002, after serving her time following the DUI suspension, Sue returned to the road with a fresh outlook on life, ready to tackle new experiences. She did a 2-year stint in upstate Washington running refrigerated freight before relocating back down south to Texas, where she tried her hand at hauling flatbed and step deck.
"I absolutely loved flatbedding! It definitely kept me in shape, but most importantly the precision needed when pulling a flatbed helped strengthen my driving skills in many ways. You check yourself, double check, and triple check – awareness is everything. There is no room for error when it comes to strapping down a load. However, I noticed the men treated me different in that niche of the business, they were not as helpful… but I knew that I had to earn my place.
For females drivers in trucking, the instinctive pressure to succeed that women put on themselves along with the expectancy to retreat can showcase one's determination.
That period of my driving career was a challenge, one that I didn't back down from… I learned a lot during that time; the experience allowed me to grow and improve as a driver. So, if you're looking for an avenue that tests your abilities or need that physical aspect, flatbedding is where it's at."
    Continuing to expand her résumé, Sue ventured into the oil field pulling bulk tanker hauling frac sand throughout Texas and Oklahoma, two weeks out at a time. Later, she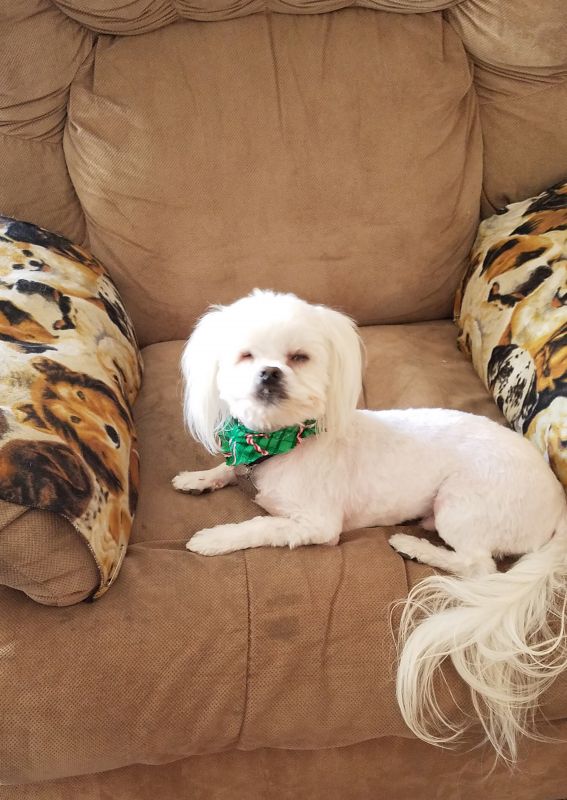 found herself back to familiar territory transporting refrigerated freight for a few small outfits, eventually landing with Flagship Transportation in 2016. Now on a dedicated route from Texas up to Kentucky, she is able to be home every weekend. When away on the road, she is joined by her sweet and lovable 6-year old Maltese, Moses.
    Today, Sue resides in Blossom, Texas on five acres of land for her three horses that she shares with her husband, Tim. They have 4 grandchildren on Sue's side from her daughter, Terrie; along with Tim's son a Marine, age 21.