Your Expedite Expo 2018 Planning Guide
Posted on Thursday, July 19, 2018
Your Expedite Expo 2018 Planning Guide
Guide By Sean M. Lyden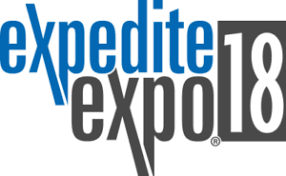 Whether you're a driver, owner-operator, or fleet owner, you're looking for new ideas and relationships that can help you stack the odds of success in your favor. 

And that's precisely what you'll find at Expedite Expo.

Launched in 2001, Expedite Expo is the only trade show in the world geared exclusively to the expediting trucking industry.  And today, the Expo—which runs July 20 and 21 at the Lexington Center in Lexington, Ky.—has grown to attract thousands of attendees across North America, where they come to learn about the newest trucks, career and business opportunities, and products and services. We are happy to once again have Expediter Services as our Title Sponsor at the show this year.

At the Expo, you'll gain access to valuable education and networking opportunities—all for free, including truck parking. So, here are some of the highlights to consider as you plan your Expo itinerary.

ExpeditersOnline (EO) University Educational Sessions, sponsored by Panther Premium Logistics
Friday, July 21, 8:00 am to 10:00 am; Saturday, July 21, 8:00 am to 9:00 am

If you have questions about how to succeed in expedited trucking, chances are you'll find the answers at the Expo. Choose from over 14 workshops from EO University taught by industry veterans and experts to get answers to questions like:

● What does it take to become a fleet owner—and succeed at it?
● I'd like to become an owner-operator, but how do I prepare my finances to buy a new truck?
● What does it take to succeed as a van driver or owner-operator in expediting?
● How should I equip my van for maximum productivity and comfort?
● What are the keys to a good team relationship out on the road? 
● How does the recent tax cut impact my business as an expedite owner-operator?
● How do I get started in expedited trucking? What are the first steps I should take?

The idea behind the EO University workshops is to enable you to increase your odds of success in this business by tapping into the knowledge and experience of those who have gone before you.
Networking Sessions
Friday, July 20, 10:00 to 11:00 am; Saturday, July 21, 9:00 to 10:00 am

Besides informal networking at the various events at the Expo, you can also sign up on-site for more structured networking "roundtables," where you sit with your peers and discuss topics that will help you to be more successful in your business.
 
For an hour each day, you'll have an opportunity to make lasting connections with people who speak your language and share your day-to-day challenges. Compare notes, exchange ideas and build relationships that could become valuable to you for years to come. 

Industry Outlook: The Future of Expedited Trucking
Saturday, July 21, 10:00 am

What are the key trends to watch in expedited trucking over the next few years? What direction is the expedite market, as a whole, heading? Will it grow, hold steady, or hit economic headwinds? How can you best prepare to capitalize on the opportunities and navigate around the challenges that lie ahead? 

Moderator Sean Lyden with ExpeditersOnline.com will ask industry experts John Elliott (Load One), Stu Sutton (Full Circle TMS), and Ellen Voie (Women In Trucking) to peer into their crystal ball and share what they see.

This will be an engaging roundtable discussion for all stakeholders in the expedited trucking industry—including fleet owners, owner-operators, carriers, and drivers—giving you greater insights into the road ahead to help you make smarter business decisions. 

Casino Night: Sponsored by Team Run Smart
Friday, July 20, 7:00 pm to 10:00 pm 

This event is guaranteed to give you a real casino experience with Blackjack, Roulette, Craps, and Texas Hold'em. There's no cost to play, but you have the chance to win from among the thousands of dollars of prizes that will be given out that evening.

"Expediter of the Year" Announcement
Saturday, July 21, at 2:30 pm

The purpose of the Expediter of the Year award is to recognize those hard-working, professional and safety-conscious expediters on the road today who strive to make the expedite industry better and are deeply involved in serving and making a positive impact on their community.

This year's winner will be chosen among these three finalists: Tim Paxton, an owner-operator with Barrett DirectLine; Nancy Hudson, a driver for A.D. Transport Express; and Eric Escobar, a fleet owner at Fudpuckers Expedited. 

The Winner will receive $500 cash for travel, hotel accommodations provided by
ExpeditersOnline.com, and the Expediter of the Year plaque.
 
Last year's "Expediter of the Year" was Robert Burton, who donated his $500 prize to St. Christopher Truckers Relief Fund, a charity that helps drivers whose medical problems have led to financial hardship. 

So, who will win this year's award? Find out on Saturday, July 21, at 2:30 pm in the Expo hall.

Cash Giveaways with Ballot for Drivers' Choice Award
Friday and Saturday, July 21-22, 2:30 pm each day

The 2018 Expedite Drivers' Choice Award will recognize the dealer whose truck or cargo van receives the most votes. So, vote for your favorite dealer's truck. And your ballot is also your chance to win a $500 cash prize, with giveaways scheduled for both Friday and Saturday afternoon.

The contest period will be from 11:00 am to 2 pm on Friday, July 20, and 11:00 am to 2 pm Saturday, July 21.

The Drivers' Choice Award will be presented at 2:30 pm Saturday, July 21, at the close of the Expo.

Drivers' Whole Hog Roast
Saturday, July 21, 3:30 pm

Porky's Pickle BBQ Catering will arrive an hour before the event with a smoking pit. They will give you time to check out and photograph the hog. They'll then perform the traditional "Kissin' of the Hog Nose for luck" ritual. And as they carve the hog, they'll teach you "Anatomy of a Hog 101," while providing you with succulent, juicy meat samples, drenched in your choice of sauces. Sponsors are ExpeditersOnline.com and TA/Petro.

Proceeds from the cookout will be donated to St. Christopher's Fund.

Register for Free
To learn more and register to Expedite Expo for free, visit https://www.expediteexpo.com/.
 
******
About On Time Media, LLC
On Time Media, LLC understands that visibility and growth are the backbone of the trucking industry. That's why the company strives to deliver the most cost-effective multi-media solutions for its customers. Since 1999, On Time Media has built an extensive network of services that are focused on owner operator recruiting and truck sales. The company's client roster includes many of the most successful trucking suppliers, carriers and truck dealers in North America.
 www.ontimemedia.com
On Time Media, LLC 
Lawrence McCord, CEO
(859) 795-4999 
About Expedite Expo
Expedite Expo is the largest trade show in the nation that focuses exclusively on the expedited trucking industry. Launched in 2001, Expedite Expo has experienced steady growth in exhibitors, attendees and media exposure.  Attendees and exhibitors from all over the US and Canada come to the Expo to learn about the newest trucks, career opportunities and products geared specifically to owner operators and drivers of medium- and heavy-duty trucks. Web: http://www.expediteexpo.com/
Expedite Expo's 2018 title sponsor is Expediter Services, expediterservices.com 
Expediter Services is a full service one-stop expediting support company offering independent contract driver programs and owner operator programs to the industry through our partner carriers. When you are with ES you NEVER STAND ALONE and are supported and presented with opportunities from our wholly owned subsidiaries:  Expediter Contract Driver Services, Expediter Equipment Finance, Expediter Truck Sales, Expediter Management Services, and Expediter Insurance Services.  They accomplish this by offering opportunity and support programs that help expediters succeed at their level of choice through our innovative Circle of Success business model.