FedEx Custom Critical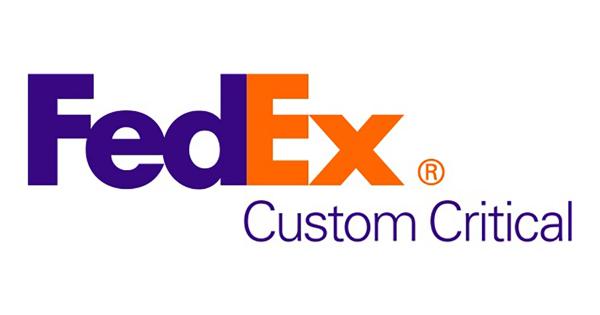 Company:
FedEx Custom Critical
Phone number:
888-444-4808
Address:
1475 Boettler Road
Uniontown, OH 44685
Website:
Click to Visit Website
Driver types:
Owner Operator
Company Driver
Existing Team Driver
Owner Operator Team
Small Fleet
Contract Driver
Recent Graduate
Equipment types:
Straight Truck
Dry Van
Refrigerated
Apply to FedEx Custom Critical
Take the next step in your trucking career today! Complete our safe, secure, and fast application process and apply to FedEx Custom Critical! Once you've completed your driver profile you can apply to additional truck driving jobs with a single click!
Apply Now!
Sign In to Apply
About FedEx Custom Critical
FedEx Custom Critical has over-the-road (OTR) contracting opportunities for independent contractors. We are looking for professional and business-minded fleet owners and owner-operators committed to delivering outstanding service.

Why Should You Contract With FedEx Custom Critical?
• You run your own business.
• Over-the-road opportunities with no forced dispatch.
• Most shipments are no-touch freight.
• You have the freedom to choose your layover destination.
• Dedicated Nationwide sales force drives more freight.
• Additional freight opportunities available for drivers with specialized qualifications or equipment.
• Pull a company-owned dry or temperature-controlled trailer at no cost to you.
• Discounts available from vendors on fuel, tires, truck equipment and more.
• Password-protected website provides information you need to manage your business, view your load history and more.
• A load board, which allows you the flexibility to choose the loads you want to take.
• Fuel tax reports.
• Optional in-cab scanners available for purchase.
• Contractor lounge at our headquarters.

Compensation & Incentives:
• Fleet growth and referral incentives available.
• Premiums paid for weekends, holidays, HAZMAT, security clearance, New York City, and Canada.
• Weekly settlements with direct deposit.
• Annual $1,000 branding incentive available.
• Toll assistance on loaded and unloaded miles.
• Fuel surcharge paid on all authorized miles.
• Awards and incentives for great customer service and safe driving.
• Annual Elite Fleet Award - This award goes to the top 40 vehicle owners in the fleet each year, based on availability, load acceptance, on-time service and accident-free driving. The winners receive an all-expenses-paid trip with an awards gala in their honor.

We are an Expedite Industry Leader with In-House Staff Dedicated to You:
• We keep you up to date with company and industry information with weekly email updates, fleet messages sent directly to the truck, fleet meetings and conference calls with management, and letters with important announcements from the home office.
• Our Fleet Support team listens to you! Speak to your Fleet Support 24/7/365 or use our The Voice Response Unit (VRU) to access the information you need to run your business. They can help answer your day-to-day questions and show you how to effectively use our load board and other resources available to you.
• Our Contractor Relations department deals exclusively with our fleet, from negotiating discounts available to you as a FedEx Custom Critical contractor, to answering questions about your lease agreement.
• Our Safety department is dedicated to ensuring we have the safest fleet possible. They are available to answer questions about how FMCSA regulations affect you and the new ELD mandates.
• The owner-operator extranet is a website exclusive to our fleet. This password-protected site gives you instant access to your personal fleet information.

Available Contractor Discounts:
• Tires - Bridgestone, Goodyear, Speedco, Michelin, and Yokohama
• Fuel - available at major truck stops
• Parts and Service
• Equipment
• Cell phone service and CB radios
• Hotels - available at 10 different hotels, 1,500 locations
• American Truck Business Services

Requirements:
We have general minimum driver requirements for our fleet's safety and compliance:
• A proper class CDL
• Minimum 21 years of age
• Minimum six months of verifiable experience for tractors
• Able to pass a Department of Transportation physical and drug test
• Ability to meet our Safety Standards

In order to contract with or drive for a contractor of FedEx Custom Critical, you must meet certain other eligibility requirements. Learn more about our qualifications and specifications on our website.
Click to Apply
Driver Types Hired
Owner Operator
Company Driver
Existing Team Driver
Owner Operator Team
Small Fleet
Contract Driver
Recent Graduate
Equipment Types Hired
Straight Truck
Dry Van
Refrigerated
Equipment Experience Accepted
Required Endorsements
None specified
Bonuses
| | |
| --- | --- |
| Bonuses for extra pickups & dropoffs: | Yes |
| Hiring bonuses: | Yes |
| Annual bonuses: | No |
| Mileage bonuses: | No |
| Safety bonuses: | Yes |
| Per diem: | No |
Click to Apply
Hiring Area By State
A
B
C
D
E
F
G
H
I
J
K
L
M
N
O
P
Q
R
S
T
U
V
W
X
Y
Z
a
b
c
d
e
f
g
h
i
j
k
l
m
n
o
p
q
r
s
t
u
v
w
x
y
Alabama
Arkansas
Arizona
Colorado
Connecticut
Delaware
District of Columbia
Florida
Georgia
Iowa
Idaho
Illinois
Indiana
Kansas
Kentucky
Louisiana
Massachusetts
Maryland
Maine
Michigan
Minnesota
Missouri
Mississippi
Montana
North Carolina
North Dakota
Nebraska
New Hampshire
New Jersey
New Mexico
Nevada
New York
Ohio
Oklahoma
Oregon
Pennsylvania
Rhode Island
South Carolina
South Dakota
Tennessee
Texas
Utah
Virginia
Vermont
Washington
Wisconsin
West Virginia
Wyoming
Click to Apply
Driver Requirements
| | |
| --- | --- |
| Min. driver age: | 21 |
| Min. driving experience: | Less than 1 year |
DMV Record
| | |
| --- | --- |
| Hire a driver who has had their license suspended or revoked: | Yes |
| Hire a driver with a DWI or DUI: | Yes |
General Program Offerings
| | |
| --- | --- |
| Paid orientation: | Yes |
| Spouse rider program: | Yes |
| Child rider program: | No |
| Pets: | Yes |
Pay Information for Company Drivers
| | |
| --- | --- |
| Pay for layovers: | Yes |
| Pay for breakdowns: | No |
| Pay for loading and unloading: | Yes |
| Pay for tarp: | No |
Pay Information for Owner Operators
| | |
| --- | --- |
| Pay for layovers: | Yes |
| Pay for breakdowns: | No |
| Pay for loading and unloading: | Yes |
| Pay for tarp: | No |
Click to Apply