CDL A MIDWEST REGIONAL DRY VAN TRUCK DRIVER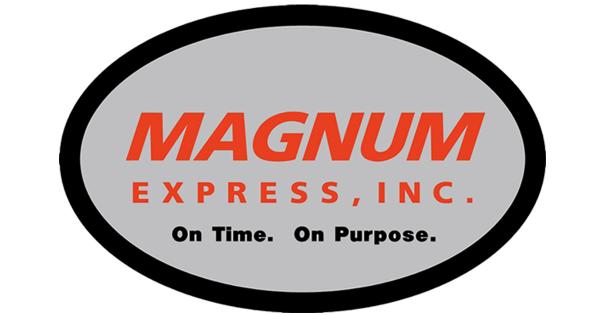 | | |
| --- | --- |
| Company: | Magnum Express Inc. |
| Phone number: | 888-410-0603 |
| Driver type: | Company Driver |
| Equipment type: | Dry Van |
| Job type: | Regional |
| Miles per week: | ... |
| Compensation: | ... |
| Bonus: | ... |
| Home time: | ... |
Apply to Magnum Express Inc.
Take the next step in your trucking career today! Complete our safe, secure, and fast application process and apply to Magnum Express Inc.! Once you've completed your driver profile you can apply to additional truck driving jobs with a single click!
Required fields have been highlighted.
Sign In to Apply
About This Job at Magnum Express Inc.
Congratulations! You just found the BEST company you'll ever drive for. Magnum Drivers pull 53' dry vans within a 300-mile radius of Indianapolis, IN and are home EVERY weekend. Magnum offers industry-leading mileage pay, raises, bonuses, benefits, and one of the best paid vacation packages in the industry. Magnum's driver turnover is one of the LOWEST around, and the Indiana Chamber of Commerce has voted Magnum one of the BEST places to work in Indiana 6 out of the last 7 years.

MAGNUM EXPRESS IS PROUD TO ANNOUNCE IT'S NEW OTR DRIVER PAY PACKAGE! NEW MAGNUM DRIVERS START AT $.50/MI. OR MORE PLUS A $.02/MI. GOOD DRIVER BONUS. AND.THREE RAISES THE FIRST YEAR!

Get rewarded for a job well done! Our new pay scale tops out at $.60/mi! Give us a call so we can see if YOUR years of experience and safe driving can benefit you here at Magnum! Come be a part of our All-Star Team of Drivers!

Magnum has been voted one of the Best Places to Work in Indiana for 5 out of the last 6 years! Our drivers are a BIG part of that. Get rewarded for being one of the BEST drivers in the industry!

BENEFITS OF BECOMING A MAGNUM DRIVER:

INDUSTRY LEADING PAY! Start at $.50/mi. or MORE loaded and empty! (Higher starting rate possible based on experience and safe driving)

Good Driver Bonus paid monthly at $.02/mi. on all miles driven that month!

Three raises the first year! Annual $.01/mi. raises on your hire date each year after that up to year 10!

$800.00 vacation bonus check after EVERY 50K miles!.plus another week of vacation added to your vacation bank!

Medical! Vision! Dental! Life! 401k! Health Savings Account! Aflac! More!

Magnum drivers are home EVERY weekend. That's the way it's always been. Take the truck and trailer home with you. Or, if you live close enough, you can park at the Magnum yard for the weekend. You choose!

70%-80% drop and hook. Midwest Regional. Dry Van.

Newer Equipment. (2015's, 2016's AND 2018's AND. 2019's on the way!) Well Maintained. Great CSA Scores!

Magnum freight is 100% no-touch.

Ride-along program.

One, small dog is ok. No cats, alligators, etc. :o)

Weekly Direct Deposit.

Come be a part of Magnum's All Star Team of Drivers.where the drivers really do make the difference.


To be eligible, drivers must:

Have at least 2-years, verifiable, OTR experience.

Have a good driving record

Have a good MVR

Have a Class A CDL

Be able to pass a pre-employment drug screen

Give me a call for more details, OR go to www.gomagnum.com to fill out the application!

Thanks,
Bob Kendall
866-218-3489 x225

Magnum Express, Inc.
#zr
Click to Apply
Equipment Experience Accepted
Household Goods
Refrigerated
Required Endorsements
None specified
Benefits
| | |
| --- | --- |
| Medical plan: | Yes |
| Dental plan: | Yes |
| Vision plan: | Yes |
| Retirement plan: | Yes |
| Profit sharing: | No |
| Stock purchase: | No |
Bonuses
| | |
| --- | --- |
| Bonuses for extra pickups & dropoffs: | Yes |
| Hiring bonuses: | No |
| Annual bonuses: | No |
| Mileage bonuses: | No |
| Safety bonuses: | Yes |
| Per diem: | No |
Click to Apply
Hiring Area By State
A
B
C
D
E
F
G
H
I
J
K
L
M
N
O
P
Q
R
S
T
U
V
W
X
Y
Z
a
b
c
d
e
f
g
h
i
j
k
l
m
n
o
p
q
r
s
t
u
v
w
x
y
Click to Apply
Driver Requirements
| | |
| --- | --- |
| Min. driver age: | 25 |
| Min. driving experience: | 24 months |
DMV Record
| | |
| --- | --- |
| Hire a driver who has had their license suspended or revoked: | Yes |
| Hire a driver with a DWI or DUI: | Yes |
General Program Offerings
| | |
| --- | --- |
| Paid orientation: | No |
| Spouse rider program: | Yes |
| Child rider program: | Yes |
| Pets: | Yes |
Pay Information for Company Drivers
| | |
| --- | --- |
| Pay for layovers: | Yes |
| Pay for breakdowns: | Yes |
| Pay for loading and unloading: | Yes |
| Pay for tarp: | No |
Click to Apply