Driving Jobs: CDL A, B or NON CDL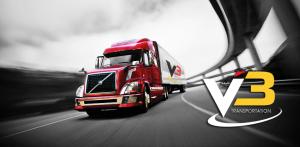 Apply to V3 Transportation
Take the next step in your trucking career today! Complete our safe, secure, and fast application process and apply to V3 Transportation! Once you've completed your driver profile you can apply to additional truck driving jobs with a single click!
Required fields have been highlighted.
Sign In to Apply
About This Job at V3 Transportation
CALL FOR MORE INFO ON A DRIVING POSITION!
Drivers and Owner Operators Needed
CONTACT US BY: calling 888.255.5955 X 3 or Email us at
[email protected]
Cargo van and Sprinter Van Drivers - NO CDL REQUIRED
Straight Truck drivers - CDL B or A - NO experience needed! Also ask about the 14 hour teams and how to train your partner for a CDL B!
Tractors- CDL A with only 6 months experience in the last 1 year. If you have more then let us know!
Click Link to find out more about V3 Transportation
www.v3transportation.com
Expedite Trucking - Drivers with CDL A or B's can drive in straight trucks. Find out more at 888.255.5955 or email at
[email protected]
• Be at least 23 years of age;
• Be able to read, write, understand and speak the English language;
• At all times behave courteously and professionally
• Be authorized to work in the United States; and,
• Have a State issued Commercial Drivers License with appropriate endorsements.
• Verifiable experience – varies by asset type
• Clean Driving Record
• Be in good health with no medical restrictions and the ability to pass a physical exam and pre-employment drug test.
• Operate with service and Safety as a priority….
Benefits For Owners/Fleet Owners/Drivers - V3 Transportation consists of Sprinters/Straight Trucks and Tractors.
Great Compensation package
50% load on EFS Cards
Company supplied trailers for all tractors
Fuel and tire discount program
Fuel surcharge
No upfront money required
Satellite Communications
99% no-touch freight
Fuel taxes calculated and filed
Trans-flo
No forced dispatch
Open door policy
Passenger policy
24-hour dispatch
Direct Deposit
Improved Web Tools
Tolls Reimbursed
Click to Apply
Equipment Experience Accepted
Straight Truck
Sprinter Van
Required Endorsements
None specified
Hiring Area By State
A
B
C
D
E
F
G
H
I
J
K
L
M
N
O
P
Q
R
S
T
U
V
W
X
Y
Z
a
b
c
d
e
f
g
h
i
j
k
l
m
n
o
p
q
r
s
t
u
v
w
x
y
Alabama
Arkansas
Connecticut
Delaware
District of Columbia
Florida
Georgia
Iowa
Illinois
Indiana
Kansas
Kentucky
Louisiana
Massachusetts
Maryland
Maine
Michigan
Missouri
Mississippi
North Carolina
Nebraska
New Hampshire
New Jersey
New York
Ohio
Oklahoma
Pennsylvania
Rhode Island
South Carolina
Tennessee
Texas
Virginia
Vermont
Wisconsin
West Virginia
Click to Apply
Driver Requirements
DMV Record
| | |
| --- | --- |
| Hire a driver who has had their license suspended or revoked: | Yes |
| Hire a driver with a DWI or DUI: | Yes |
Click to Apply
More Driving Jobs at V3 Transportation